Hydrotherapy
Do you find doing your exercises on land difficult or painful; why not try doing them in water?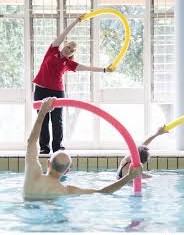 Each Tuesday Jayne runs  hydrotherapy classes at Loughton Leisure centre. 1 to 1.30pm  and 1.30 to 2.00pm and on a Wednesday at Waltham Abbey pool 7.00 to 7.30pm
She  will supervise a general exercise session in the pool for half an hour.  Hydrotherapy benefits all sorts of conditions; back pain, arthritis, muscle and ligament strains and sprains, stiff joints, etc.
You will be required to fill out a health screening questionnaire prior to your first session.
Cost: £12.00 per half hour class plus payment for two classes in advance which is non-refundable or transferable
To book a place please contact Jayne to check availability. You will be required to pay in advance to secure your place. Please read our privacy policy on the website then print off the hydrotherapy registration  form below and fill out the first section. If you are not under a physiotherapist Jayne will arrange to meet with you prior to your first class to go through the form with you.
Hydrotherapy Registration form